Table of Contents
Reasons To Hire A Commercial Electrician
If you run a commercial company, you probably want to discover methods to reduce commercial electrical risks in the workplace. It seems to be an easy solution. Simply don't mix water and electricity. The majority of commercial property mishaps are caused by electrical wires coming into touch with water. Other commercial electrical dangers, such as electrocution, electric shock, and electrical burns, occur, and they are not the consequence of a collision between water and electricity. There are many kinds of electrical dangers that may arise.
May prevent many of these incidents if employees are properly trained on their work equipment and the entire work environment is safe. This is why you should hire a commercial electrician for your business. He can assist in reducing electrical hazards in the workplace. A commercial property electrician works in factories, warehouses, control centers, and various other industrial settings. The electrical work done on commercial buildings differs greatly from that done on residential homes. This is due to the higher quantity of electricity consumed in commercial buildings. These commercial properties often contain various machinery and equipment that need an electrical installation, upkeep, or repair. There are also a plethora of other rules and regulations that must follow. These are all things that a commercial electrician can handle for you.
A commercial electrician has a variety of work responsibilities depending on his expertise. Essentially, he is there to ensure that there are no commercial electrical hazards in your business. For example, he checks that the equipment does not have a broken cable or has too much power for the power cord into which it is connected. Alternatively, he ensures that extension cords, wires, and cables are properly connected to circuit breakers. If everything is working correctly, all power should be turned off if it comes too near the water. If these devices fail to function correctly, electrical fires may occur. However, if your business has an expert commercial electrician on staff, he can ensure that these kinds of electrical mishaps and accidents do not occur. This may apply to both new development and properties that have been in existence for a long period.
Finally, a commercial electrician will keep your business safe from commercial electrical dangers. He is free to build up a power structure depending on your strategy. Suppose you need electricity in certain parts of your company. In that case, a commercial electrician can design a plan for you, install wires, and ensure that they are not visible to your workers or customers and do not pose any commercial electrical hazards.
---
More for you:
---
Electrician For Commercial Property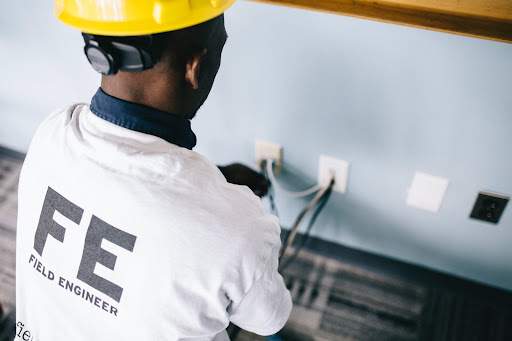 Commercial electricians operate on industrial buildings, factories, and any other kind of commercial property you can think of. This electrical work varies significantly from domestic work because of the quantity of power involved and the codes and regulations that must be followed. There are many services available to business establishments, and here are a few to consider:
Maintenance is a critical service and component of commercial electrical operations. Large industrial buildings need a significant amount of maintenance and servicing work regularly. Most of these properties have a regular maintenance schedule with an electrical provider to keep things running well. Many of the components in a commercial building must also be maintained regularly, requiring a skilled electrical contractor.
Whether it is an office, a retail location, or anything else you can think of, any commercial facility has a security system. A commercial electrician can set up every element of a security system for any kind of building. This includes cameras, an alarm system, motion detectors, monitoring systems, control rooms, and everything else associated with high-quality security. It is critical to have this kind of security installed so that both workers and consumers are safe at all times.
Running all of the connections and wiring for a business facility is a massive task in and of itself. A commercial electrician must adhere to stringent regulations, conceal all wires, and keep each wire secure from damage in huge quantities. There may be miles and miles of wire in an office building or industrial warehouse that you would never see at first look. A commercial electrical expert may create a strategy for any kind of structure to put each wire set.
Many of the electrical systems that go through a business complex or building are underground. All of the electricity lines can be tunnelled securely and effectively by your commercial electrical professionals. They may also draw out a strategy to ensure that everything is readily serviced and that each line is routed properly. This is just one illustration of how difficult this kind of electrical work can be.
Commercial electricians are particularly educated to manage big projects in an orderly manner. They can adhere to all local compliance rules and do the task correctly to work properly every time.