Table of Contents
What is an Electrical Contractor?
A commercial person or corporation that undertakes specialized electrical building work is the most basic definition of an electrical contractor. This activity is typically associated with the design, installation and maintenance of the electrical system. It makes no difference what sort of electrical system they work on or with; their work truly matters. Electrical contractors are responsible for ensuring that such systems operate successfully, safely, and in most cases, in an ecologically sustainable manner. They are in charge of powering our world, and very few electrical projects will not require a contractor to ensure everything works (and that all safety criteria are followed).
What Does an Electrical Contractor Do?
Depending on their specialization, electrical contractors can do a wide range of tasks. When an electrical contractor is contracted for a project, the work will begin. Frequently, the electrical contractor will provide feedback on the design's constructability, or provide a plan with a greater level of detail; this is critical when beginning construction. The electrical contractor will begin scheduling work and then begin construction after the design, budget, permit and liability insurance have been authorized.
If the project uses the Integrated Project Delivery Method, the electrical contractor will be very busy during the initial building and design phase. However, the benefits to the project and the electrical contractor are substantial; they can reduce rework or several issues during the build.
---
More For You
---
5 Key Benefits of Hiring an Electrical Contractor
Improved Project Safety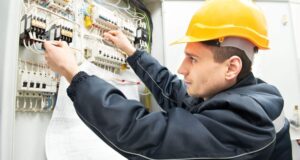 Hiring electrical contractors improves the overall safety of your project, which is one of the most evident benefits. Working with electrical components and other associated equipment is not without danger. Faulty wiring can produce electrical surges and, in difficult situations, a fire, which can damage a structure and endanger its occupants.
Cost-Effective
There are several instances wherein you may engage in Do-It-Yourself labour. On the surface, this appears to be a less expensive option; however, you'll quickly learn that it's not a better option than choosing the correct contractor to complete the task properly.
Address All Electrical Issues
Many electrical problems arise in a building or other medium- or small-scale construction projects. Power surges, brownouts, non-functional electrical switches, circuit overload, electrical shocks or fires can all occur. Specialized groups of professionals, such as electrical contractors, must diagnose and solve these difficulties.
If you don't have an electrical contractor on your team, your project may be delayed until you find a professional to fix a problem. Furthermore, you face the danger of an electrical problem being misdiagnosed. This can quickly blow a hole in your budget, and you may wind up allocating funds to an unexpected collection of equipment and supplies.
High Quality
When you place your faith in an electrical contractor firm like Gregg Electric, you can be confident that each professional you engage with is qualified. We are also licensed to perform any electrical work, guaranteeing that no matter what the job entails, you will receive only high-quality service.
Electrical contractors make it a point to maximize the efficiency of each project they work on. Consequently, the project has an optimal design plus it is free of defects or errors that can lead it to fail.
Fully Insured
Another advantage of dealing with a reputable electrical contracting business is that they ensure that each specialist on their team is insured. Even if you try your hardest to avoid any form of mishap in your project, some of them may be unavoidable. When your contractors are protected, you won't have to worry about ensuring their safety or bearing the price of any subsequent bills.
Looking for an electrical contractor in the Abbotsford, BC area? Visit Gregg Electric online or call us at (604) 557-4734 today. We offer a wide variety of electrical services including emergency repairs and installations.