Table of Contents
What Is a Commercial Electrician?
A commercial electrician is a professional and licensed electrician specializing in commercial wiring and electrical systems rather than residential facilities. These electricians work in huge structures with larger systems such as shopping malls, office buildings, restaurants, government buildings and high rises. While many components of the job and training are comparable to domestic electricians, there are a few key differences to understand when deciding on your future electrical career.
What Do Commercial Electricians Do?
Electrical systems in commercial buildings are installed, maintained, inspected and repaired by commercial electricians. These are any structures that aren't used as homes, and they're usually bigger than homes where residential electricians work. A huge apartment building, which can be deemed commercial rather than residential, is an exception. These electricians' responsibilities include the following:
Wiring and electrical components such as switches and lights are installed

Upkeep of electrical systems

Electrical systems are inspected to ensure they are functional, safe and up to code.

Identifying and repairing issues with wiring and electrical components

Technical drawings are read and used

Electrical system design for new construction

Using and adhering to provincial, local, and national wiring and electrical system standards

Managing electricians' teams and instructing apprentices
---
More for you:
---
5 Reasons to Hire a Commercial Electrician From Gregg Electric
They offer top-notch commercial lighting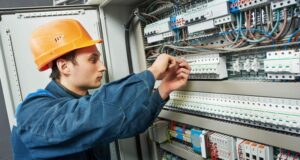 As a business owner, you must ensure that your building or workplace has the appropriate illumination. Your employees will get into accidents or make mistakes if they don't have enough lighting to do their work (and navigate your workplace) properly. Professional lighting installed correctly can also help you save money on your electricity bill; specifically, this information can only be obtained from a commercial electrician.
They can also recommend automated lighting systems, which can help you save money by reducing power waste. While transitioning to a more sustainable workplace, you'll benefit from increased energy efficiency.
They also provide lightning protection systems
To decrease the chance of harm and damage to your business, you'll require lightning protection systems; this is just one way whereby a commercial electrician comes in useful. Although these systems are beneficial, they can only be installed by a certified electrician who has the necessary expertise.
Because the safety of your business is so important, you'll want to leave this work to a skilled electrician who will do it well. The safer your company is, the more likely it is to succeed.
They are aware of electrical codes
Commercial electrical contractors will manage this, since electrical systems come with electrical codes and regulations that the average person would not grasp. They have the knowledge and experience necessary to ensure employee safety and adherence to legal requirements (designed to protect individuals from electrical harm and risks). These will also contribute to a safe working atmosphere for your employees, allowing them to work without fear of harm.
They look for electrical dangers
Commercial electricians are trained to identify electrical hazards, whether they are obvious or in fact hidden within your building. If you don't get these examined, they can create an electrical fire or other risks, causing your business to close and putting your employees in danger. Hiring electrical professionals will guarantee that your workplace is free of these hazards, resulting in a safe working environment.
They make improvements to the electrical system
Even if you've invested in cutting-edge equipment and appliances for your office, these will eventually become obsolete. Furthermore, changing these might be costly, necessitating the services of a professional electrician. These contractors can help you extend the life of your existing appliances while also saving you money. You can also have them evaluate and improve anything from your ceiling fans to your electrical panels.
Gregg Electric offers top-notch commercial electrical services to the Abbotsford, British Columbia area. Visit us online or call us today at (604) 557-4734.