Table of Contents
Why Is Landscape Lighting Important?
Landscape lighting raises the value of your property by enhancing the beauty of your surroundings—objects, fountains, architecture and landscaping—after sunset. It also increases the amount of time you can spend outside by expanding your outdoor living space. Creating lit architectural features such as pathways, driveways, steps, decks, and staircases can assure safe passage while also enhancing security.
Questions To Ask A Landscape Lighting Contractor
Landscape lighting is time-consuming and can be expensive if you try to do it yourself. Therefore, you should hire the best individual for the job. You can perform some of the landscaping work yourself on weekends, but hiring a professional is always the best idea.
Here are a few questions to ask your landscape lighting contractor:
Do you have all the necessary licenses, registrations and other documents?
Before beginning a landscaping project in your Abbotsford area home, ensure the landscaper is licensed to work on such tasks. Request to see the license and registration as soon as possible. The contractor must have 3+ years of experience working in the landscaping field to obtain this license. In addition, the contractor must pass a professional examination. As a result, the contractor will thoroughly understand the location's soil, native vegetation and climate. This will also verify that the contractor is aware of environmental legislation and requirements.
Also, make certain to inquire about the lighting contractor's insurance. Every landscaper who is licensed should be bonded and insured. If the contractor isn't insured, don't hire them because it will relieve you of liability protection if they get hurt while working for you. It will also compensate the contractor if any property on the job is damaged.
Hiring an unlicensed landscaper might save you a little bit of money in the short term, but it will cost you more in the long run.
Have you worked on similar projects before?
Even though a license verifies relevant experience, it's still a good idea to inquire if the contractor has worked on similar projects. Also, if you want someone to manage all landscaping elements, make sure to inquire if they have a staff to do so. Because you want a garden lighting design, it's only natural that the contractor will send a team who is informed about landscape lighting and vegetation (and has a lot of experience with these).
An expert landscape lighting contractor will know the most cost-effective and energy-efficient bulbs to employ for path and security lighting. They will also have a strong awareness of the numerous sorts of outdoor lighting fixtures to use, and they will know specifically what to employ for lighting fixtures for your pool.
You won't have to worry about concerns like consistency if you hire an expert landscape lighting provider. You can also remain confident they will protect your neighbourhood's natural beauty. As a result, your resale value remains high.
Are you willing to collaborate with other professionals?
If the home is being built from the ground up, the landscape lighting designer will need to collaborate with other specialists such as architects and electricians. The contractor must be willing to collaborate with these experts. You don't want contractors squabbling over minor details such as who has more authority.
The contractor should thus have prior experience working on a building site similar to yours, in order to understand how to work safely without endangering the other workers' lives. You want your home's building and landscaping projects to run as smoothly as possible.
Do you understand my requirements and preferences?
Some contractors can be difficult to work with, especially if they try to impose their views on you. You'll need a landscape lighting contractor who will listen to your needs. Your outdoor lighting concepts will be turned into a practical plan by the best contractor. You want a contractor who will endeavour to keep your home's general appearance, while transforming it into an attractive haven for your family and visitors.
Do the lighting products come with guarantees or warranties?
Landscape lighting companies will be responsible for installing lighting systems. As a result, you may want to inquire about product warranties. You'll need some type of assurance that the system installed will work in the long run.
---
More For You:
---
What Are The Benefits Of Hiring A Landscape Lighting Contractor?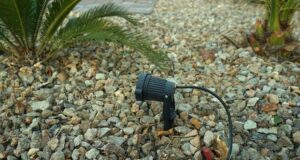 While some typical landscaping projects can be done on your own, landscape lighting is a different matter. You'll need a professional who knows how to combine hardscape and softscape with lights. The contractor must know the right way to install the lighting system so that the entire landscape is illuminated.
This is why the questions listed above are so crucial. You want a landscape lighting contractor in Abbotsford who can bring your vision to life while maintaining the neighbourhood's beauty. Get a price for interior and exterior lighting for your property easily by contacting us.
Gregg Electric is your best landscape lighting contractor in the Abbotsford area. We offer a wide range of services such as outdoor lighting, pool and spa equipment installation, generator installation and repair, and more. Visit us online at greggelectric.ca or call us today at (604) 557-4734.