Table of Contents:
A commercial electrician is a trained and licensed electrician specializing in commercial building wiring and electrical systems rather than residential building wiring and electrical systems. These electricians work with larger systems, such as shopping malls, office buildings, restaurants, government buildings, and high-rise buildings. While many aspects of the job and training are comparable to those of residential electricians, there are some critical distinctions to consider when choosing an electrical career.
What Commercial Electricians Do
Commercial electricians install, maintain, inspect, and repair commercial buildings' electrical systems. As these are non-residential structures, they are typically larger than the structures in which residential electricians work. A large apartment building is an exception, as it may be classified as commercial rather than residential. Several of these electricians' responsibilities include the following:
Wiring and electrical component installation, such as switches and lights

Taking care of electrical systems

Electrical systems inspection to ensure they are functional, safe, and up to code

Diagnosing and resolving wiring or electrical component problems

The ability to read and use technical drawings

Electrical system design for new construction

Utilizing and adhering to state, local, and national wiring and electrical system standards

Managing electrical teams and instructing apprentices
Environment of Work
A commercial electrician's typical work environment is indoors, although they spend a significant amount of time in their work truck travelling to and from jobs. As with residential electricians, these professionals perform physically demanding work that requires them to enter small spaces, move frequently, and spend considerable time standing or crouching. Additionally, the work can be hazardous, with the possibility of electric shocks, fires, and injury from tools and equipment. Utilizing safety equipment and adhering to safety regulations can help mitigate these risks.
Commercial Electrician Training and Licensing
The majority of states have distinct licensing requirements for commercial and residential electricians. This is because the wiring and power systems used in commercial settings are distinct from those used in residential. Residential power is delivered in a single phase, whereas commercial power is delivered in three phases. Electricians who work on commercial wiring must be trained to deal with these critical distinctions.
As with any other type of electrician, becoming a commercial electrician requires a certain number of classroom hours and on-the-job training and experience. All of these hours can be fulfilled through an apprenticeship program. Some programs combine residential and commercial training, while others keep them separate. To become a commercial electrician, you must have a certain number of hours of work experience in a commercial setting, which varies by state.
Four advantages of hiring a commercial electrician
Selecting a commercial electrician is critical because they provide specialized electrical work, are frequently more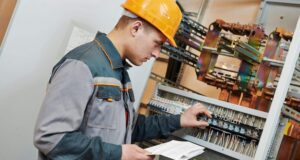 safe and efficient, and are properly certified, experienced, and insured. Compared to residential electricians, commercial electricians are typically better equipped to handle larger projects and more complex concerns.
Electrical work that is specialized and of high quality
Commercial electricians specialize in commercial properties, which means they can resolve complex issues that many residential properties never encounter. By hiring a commercial electrician, you can ensure that you receive the high-quality electrical work necessary to ensure your property's safety and energy efficiency. Many businesses find themselves in difficult situations when electrical problems arise, and entrusting a commercial electrician to address any potential concerns can help you save money and ensure your business continues to operate properly.
More rapid and secure results
Electrical work, particularly in a commercial setting, is intricate and requires experience and knowledge. If potential problems are not detected during the inspection, they can result in a tripped circuit breaker or an outage. Electrical concerns that go unnoticed can result in an electrical fire, which is dangerous and necessitates more expensive electrical repairs. A qualified commercial electrician understands how to identify and safely repair problems while completing their work more quickly on average than residential electricians.
Commercial electrical services in a variety of configurations
Additionally, commercial electricians provide a variety of essential services for commercial properties. These services frequently include the following, but are not limited to:
Electrical installation and rewiring

Installation of outlets and fixtures

Changing out existing fixtures

Upgrades to electrical systems

Electrical maintenance in commercial buildings
Often, commercial business owners are unaware of their precise electrical requirements. An experienced commercial electrician conducts a thorough inspection and determines whether one or more of the above services and routine maintenance are necessary to ensure the customer's business runs smoothly in the long run.
Commercial electricians who are licensed and insured
A commercial electrician who is a professional should be insured to protect themselves and their client from any damage. When hiring an electrician, selecting one who is insured protects you from liability for damage that is not your fault and reduces the risk of problems developing as a result of the electrical work. On the other hand, less experienced and qualified electricians and electricians who do not work on commercial properties may be without insurance or have insufficient coverage for commercial properties.