Table of Contents
What Is Emergency Lighting?
Emergency lighting refers to battery-powered (or other independently powered) light sources which function when a power loss reduces workplace visibility. The use of emergency lights is mandated by commercial and residential construction regulations of the day. Many building rules also mandate the retrofit installation of emergency lights in older structures.

Importance of Emergency Lighting
When there's a fire or other disaster in a commercial building, emergency and exit lights assist individuals with evacuating the structure as fast and securely as possible. Emergency lighting, exit signs, and panic doors are all critical safety elements on par with fire alarm systems. While the latter announces an emergency and fire sprinklers extinguish flames, emergency route lights and exits guarantee that everyone evacuated safely.
5 Advantages of Emergency Lighting for Your Company
It's easy to ignore emergency lighting as a key corporate asset, yet it's always there for when the worst occurs. When it comes to business, light can differentiate between a safe scenario and a potentially dangerous one. In addition to illuminating our path, emergency lighting has 5 additional advantages detailed below:
Constant Lighting
Lighting can fail for various reasons, but your company's productivity will be significantly impacted if it fails during a storm and working hours.
Emergency lighting is always available when properly maintained, if the main lights go out.
Cost That Can Be Recouped
There's no way around the investment necessary to install emergency lights, but this investment can be recouped fast.
Your insurance rates may also decrease.
If the primary lighting fails, you can limit the number of hours lost to non-productivity.
It Directs the Way
If an incident necessitates an evacuation, emergency lights will guarantee that personnel can get to the exits safely.
Remember those exit signs we often disregard? They are powered by emergency lights and will help staff find their way.
A Major Asset During Power Outages
As stated, emergency lighting ensures you will never be in the dark.
Since you won't be "in the dark" during a power outage, productivity shouldn't be affected as much
LED Technology Benefits
Typically, modern emergency lighting systems are powered by LED technology which makes them less brittle and gives them longer lives.
They are more efficient than traditional incandescent bulbs.
LEDs illuminate rapidly and can be switched on and off often without sustaining harm.
LEDs lack mercury and are consequently less harmful than their conventional predecessors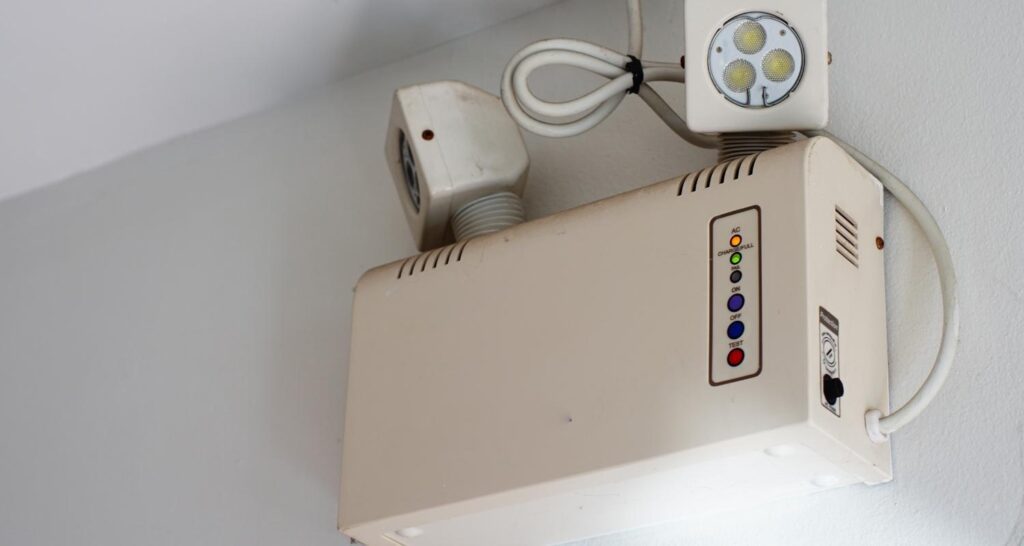 Where To Install Emergency Lighting
Buildings which contain people at any time of the day are obligated to provide emergency exit and walkway lighting. However, there are three situations exempt from emergency lighting requirements:
Only inhabited during daylight hours if sufficient natural light is available to give the appropriate degree of lighting to exit. All paths leading to the exit must be flooded with natural light.
Non-inhabited buildings.
Towers intended for less than three people and equipped with an escape ladder.
If your building does not qualify for one of the exemptions listed above, you must offer a safe exit route with emergency lights. The following are frequent locations where emergency or exit lights should be installed:
Rooms without windows that are bigger than a closet
Stairs selected as an evacuation route
Aisles or corridors that lead to the exit
Stairways that lead to an exit
Elevators that lead to an exit
All exits leading to an area accessible to the public
Doors with delayed locking mechanisms
New sensor-release electrical locking systems on doors
Advantages of Expert Installation
In addition to understanding where to position emergency and exit lighting, correct installation criteria must be followed. This involves ensuring that the lights are adequately focused on illuminating the pathway, and are appropriately spaced apart to prevent excessively brilliant or dark patches. In the case of a power loss, emergency lights and exit signs must still illuminate, which often need a solid battery backup. Installation, inspection and maintenance should be left to skilled fire and life safety professionals, so as to prevent code violations and severe penalties.
Visit greggelectric.ca or call us at (604) 557-4734 for more information on emergency lighting in Langley and across the Greater Vancouver Area.