What is Track Lighting?
Standard light fixtures have a single electrical wire that powers all of the lights in the room; with track lighting, each fixture is connected to its conductor so that each light is powered independently. It's possible to mount tracks on the wall or the ceiling, and they come in both straight and curved configurations. Depending on the homeowner's preferences, the heads (or lights) can be rotated and repositioned along the track to direct light in the desired directions.
Track lighting is composed of 2 parts

Track: Conductors are held in place by conductors on the track, which are connected to the track's power supply. They are mounted on the wall or ceiling, with the opening facing out or down.
Heads: The heads are the lamp-holding fixtures connected to the track's power source by two metal tabs which also lock and secure them in place.
How to Set-up Track Lighting
While many track lighting systems sold in home improvement stores and websites are ready to be installed, it is always recommended to hire a professional electrician if hardwiring is required for your specific track lighting project.
DIY Installation Tips
Track lights that are ready to be installed include a short track and compatible track heads. Look for track lighting sets with adjustable tracks if you intend to do your own track lighting. This way, you can position the lights so that they shine in all directions.
You don't need a lot of experience to set up track lighting. It can be installed in a single afternoon if you plan and take care. However, before going out and purchasing track lights, carry out the following steps:
Decide on a place where you want to install the lighting

Make a plan for how you'll attach the track to the ceiling or wall

Calculate the required track length

Find out where your power source is and how to connect it
A licensed electrician should install hardwired track lighting. The following instructions will show you how to install plugin track lighting:
Plugin once you've located the track

Find out how far away the location of your lighting fixtures is by taking a measurement

The adhesive strips are already installed. Remove the strips and space them out evenly, then press firmly.
Benefits of Track Lighting
Aesthetics. Track lighting is available in a wide range of materials and designs, and track lighting's simple, practical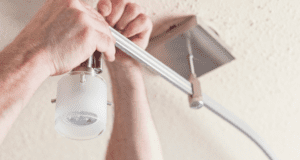 design blends well with modern, clean-lined interiors.
Versatility. Installing track lighting in your home, office, or business primarily increases the amount of light available. Weather is erratic, and we get days that are both sunny and cloudy and days that are dark and gloomy. It's important to choose your light source based on your personal preferences and vision needs.
It saves storage space. To save space, use lights that can be moved from your ceiling or rafters; this is especially important if you live in a small area with limited storage space.
Shows off your house's best features. Additionally, track lighting fixtures can be used to highlight certain aspects of your home's décor like paintings, photographs and other memorabilia, as well as pieces of furniture and sculptures.
Moveability. Fixtures for standard lighting are permanently installed, and you can't relocate them after they've been set up. This problem is solved by using track lighting fixtures, which allow you to move the lights around to suit your preferences.
Provides a wide range of high-quality lighting options. When it comes to track lighting, more is more when flooding a space with light. LED light bulbs, which use less electricity and last longer than traditional incandescent bulbs, can be used for track lighting. With track lighting, you can produce light with various colour temperatures, including warm and cool tones. In the evening, people prefer to use warm lighting because it is soothing, while in the daytime, people prefer cool lighting because it makes them feel more alert and energized. Cool light is typically bluer; warm light is usually reddish or yellow.
Track lighting is ideal for spaces with limited ceiling height because it can be mounted virtually anywhere.

For everything you need to know about track lighting, call (604) 557-4734 or visit Gregg Electric online.